Marine Transportation Services is the owner, builder, seller, and former operator of passenger vessels designed to haul signifcant cargo. Currently we have 8 vessels for sale, ranging in size from 110' to 140'. Their common features are high speed capabilities, aluminum construction, large deck space for cargo, exceptional maintenance, and comfortable, safe seating for passengers.
Support Facilities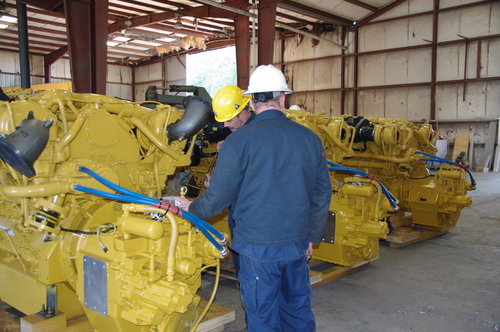 As a part of our complete customer services, Marine Transportation Services owns and operates a shipyard which specializes in the construction, refurbishment and repair of its vessels. In fact, our shipyard in Panama City, Florida, has built each of our vessels. MTS also has its own state-of-the-art diesel engine rebuild facility. We have an excellent team of the best diesel mechanics on the Gulf Coast. Our engines receive thorough overhauls, down to the last bolt. They are dyno tested in the engine shop and are equivalent to a new engine when the rebuild is complete.
Family Leadership
Ownership and leadership of Marine Transportation Services comes from the family of the late Grover Davis. As President, he and his wife, Judy, Vice President, founded MTS in 1974. Family management has expanded since then to include their two daughters, Kerrie Davis Beasley and Kimberly Davis Whitfield. Kerrie came to MTS as a CPA and Kim is a member of the Florida Bar. Since Grover's passing, Kerrie now serves as President and Kim serves as Secretary/Treasurer. This company was built on long-term relationships with clients and employees and a commitment to superior vessels. Queen Craft Shipyard is managed by Daniel Strickland and the Engine Shop at Queen Craft Shipyard is managed by Robert Ross. We remain committed to the principles of honesty and fairness, and we will handle all sales with efficiency.
All Together
Add it all together. Marine Transportation Services is many special people, with a variety of specialized skills all working together, each dependent upon the other. From the company president to the newest laborer, our staff is devoted to the goals of vessel excellence and safety. A team. A family. MARINE TRANSPORTATION SERVICES, INC.